1000slides - All-In-One MegaPack
100% combatible with PowerPoint 2003, 2007 and 2010
100% kompatibel mit PowerPoint 2003, 2007 und 2010
Price:
316.00€
197.00€
Ex Tax: 165.55€
ALL IN ONE MEGAPACK (6 x 1000 slides)
How long do you need to create 1000 slides?
With 1000slides.com you save this time and create your presentation quickly and effortlessly with a consistent and impressive design. Choose from over 1000 ready-made design templates, sorted in 49 categories, which all match each other in style.
Find the right slides
in seconds
All slides are in one pptx or ppt file
No design effort
All templates are in the same modern design and match each other in style.
Simple
You only need replace default texts with yours. Done!
Everything is customizable
If you want to change color, shape, size or position - it's possible!
100% Compatible
... with all PowerPoint versions since 2003
Incredible Price
You get all 1000 Templates for an unbelievable low price per slides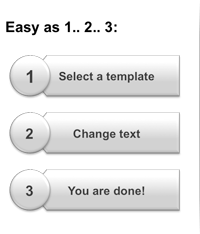 With "1000slides" you can:
Quickly and easily create consistent looking presentation
Choose from 1000 ready-to-go templates
Browse in 49 different categories
Try different visual variations conveniently
Adjust individual colors in seconds
Modify all objects in shape, size and position